Corn came screaming out of the ground in just five days on my farm at Agricenter International in Memphis. Other than the seed and herbicide, I'm using 100% Huma Gro® products. My belief is that you don't just farm the crop, you farm the soil. These Mid-South soils have low organic matter levels, so the pre-plant application included Huma Gro® Zap® to help add life to the soil; Breakout®, Max Pak® and Calcium for fast, uniform emergence and sustained vigor; and for macros we applied Super Nitro® and Super Phos®, along with X-Tend®. Right behind the planter, we made another pass of Super Nitro®, Super Phos® and X-Tend®, along with Acuron herbicide. Many thanks to the research team at Agricenter International for doing a fantastic job. Special shout out to my friend Perry Galloway (one of the top farmers in the country and owner of a Hefty Seeds location in Augusta, AR), and AgriGold, for their hot new 117-day hybrid, A647-79. We planted it 2" deep at 40,000 seeds per acre in ideal, 68-degree soil conditions. The corn is growing in 38″ rows on ridges we created by hipping the soil, so there's the option of furrow irrigation layer in the season.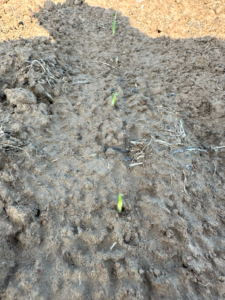 This weekend witnessed a once-in-70-years-event as Britain crowned a new monarch. A popular joke in farm circles is that usually when you wait 73 years to finally be the one in charge of your land, they call you a farmer (referencing that farm parents never really retire either). King Charles does have strong views when it comes to managing the farmland of his commonwealth. He's a big fan of regen ag, telling the World Congress of Soil Health last fall, "We have to be proactive in encouraging regenerative agriculture, with a diversity of plants and of grazing livestock, replacing lost organic matter through the use of legumes, cover crops, residues and mulches." He explained that farmers everywhere face huge challenges with rising input costs, especially nitrogen fertilizer, so it's important they understand the condition of their own soils and improve their structure and carbon content. For that we say, "God save the King."
Studies show that about 3 in 10 farmers make changes to their fertilizer program each year. Last year, driven by costs and supply issues, 41% admitted to making changes. This year, we're back to 30%. Few product categories have this level of volatility. Now "change" could include adjustments to rates, application methods and timing, as well as products and brands. But this mindset represents lots of opportunities for both farmers and suppliers. The numbers are similar in the ag equipment category, where 29% will make change in 2023 following a high of 37% last year. Farmers appear more content with their crop protection and seed choices. For 2023, only 16% admit to making changes in crop protection, while just 11% for seed.
Size matters? In a recent TWIA, I touched upon seed size and how, despite some studies negating the theory, many growers still crave larger seeds. The premise is that big seeds make big yields. One could argue that the negating studies were conducted by seed companies, who often need to sell smaller seeds, or by universities that are funded by, guess who, seed companies. Below is a real-world example of why many farmers hold on to their big seed theory. It was taken by a BW Fusion agronomist at a customer's field. Will these early germinators result in bigger ears? Hard to say, but they certainly look more promising than their peers.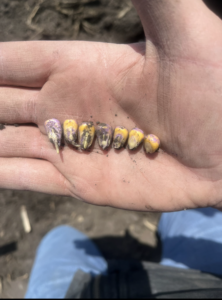 UPL is among the world's five largest agrochemical companies, with a footprint reaching 138 countries and revenues eclipsing $6 billion. The India-based company just announced a very aggressive sustainability goal: 50% of UPL's revenue in the crop protection segment will come from biopesticides by 2027. That's an ambitious goal, considering biopesticides currently account for 7% of UPL sales. Adoption of regen ag and soil health practices would seem like a logical path to meeting this goal.
Drought is hitting critical levels across the Plains. The all-important topsoil moisture deficit reading reveals that in Nebraska – the nation's #3 corn-producing state – soils are 78% short to very short in topsoil moisture. Producers in New Mexico (72%), Kansas (68%), Texas (55%) and Oklahoma (43%) are also in a tough place. And it's not just impacting harvestable market crops. Pastures are also in peril. This spells significant challenges for cattle producers. Many are having to sell off portions of their herds.
Last week a modern-day Dust Bowl occurred in my home state of Illinois that proved tragic. Six motorists perished amongst an 80-car pile-up caused by white out – or in this case, brown out – conditions. High winds blew dust from farm fields across the flat prairie. Much of Illinois' farmland is still tilled, making loose dirt susceptible to windy conditions. As an industry, we need to come together and work harder to promote a better way to farm that will hopefully avoid future tragedies.
Clearly, those of us who preach, "You can't scout crops from your pickup truck, you need to be out in the field" have never farmed in Louisiana!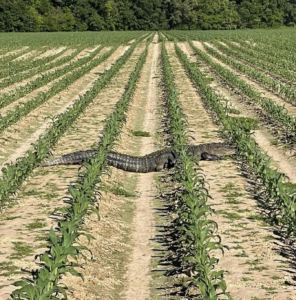 8 Simple Steps to Healthy Crop Soil
Proud Member of the Ag Retailers Association
HUMA GRO® is proud to be a member of the Agricultural Retailers Association (ARA). Their mission is: "The Agricultural Retailers Association (ARA) advocates, influences, educates and provides services to support its members in their quest to maintain a profitable business environment, adapt to a changing world and preserve their freedom to operate." Our mission is...
Member of BHN Board of Directors to Head Arizona Department of Agriculture
Mark Killian Appointed by Arizona Gov. Doug Ducey to Succeed Retired ADA Director Don Butler  Gilbert, AZ: Governor Doug Ducey has announced the appointment of Mark Killian as director of the Arizona Department of Agriculture. "I'm pleased to announce the appointment of Mark Killian to lead the Arizona Department of Agriculture," said Governor Ducey. "Mark...