Yellow airplanes were buzzing over Iowa cornfields like bumblebees over zinnias during my drive to Iowa last week. There was a time when Midwest farmers would grind their teeth at the sight of these crop dusters. It usually meant a neighbor was treating a pest problem with a costly, unplanned aerial application. And that pest problem was heading their way. My how times have changed.
Nowadays, foliar fungicide applications are SOP for many corn and soybean growers. A retailer in Iowa told me two-thirds of his customers make planned fungicide applications. Regardless of there being visible signs of fungal pressure, fungicides are seen as providing crop health benefits that lead to a yield bump. Seed company research shows a 7-bushel increase for corn and 3 bushels for soybeans. The best bang for your buck comes when fungicides are applied during pollination in corn and pod development in soybeans. The idea is to mitigate any potential stress factors. And for good measure, many savvy growers maximize the flight by adding foliar fertilizer and growth managers to the tank. I've long believed that foliar fungicide applications can be the easiest money a farmer makes. That's why I applied Huma Gro® Proud 3® and Crop Gard® to my R1 corn and spiked it with Breakout® and foliar fertilizers. Huma offers a variety of natural foliar fungicides that provide a yield bump while lowering CI scores.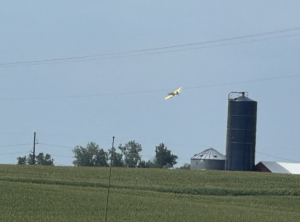 My corn is at the R3 stage. Lots of the ears are producing 18 rows (rounds). The tips are not filled out, which is likely due to high heat during pollination. And I have not irrigated (nor will I this season). But I'm still counting many rows with 38 kernels. The ear shown below is fairly representative of what I've seen scouting. You'll find bigger and smaller ears, but this is typical. Now it's about adding weight to those kernels.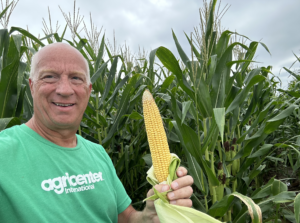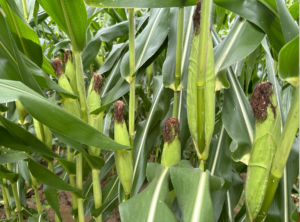 We know regenerative agriculture is good for the soil, good for the environment, and good for crops. But studies suggest that regen ag may be just as good for our diets. Scientists at Unilever found that practices which increase soil organic matter also increased the zinc content of rice, while tomatoes grown under deficit irrigation produce greater levels of vitamin C. Yet it's not just cultural practices that lead to greater nutritional content. While limited in scope, studies are suggesting that adding natural biostimulants like humic acid to the soil can increase iron and zinc levels in wheat.
I often wonder why do companies care more about the opinions of people who will never buy their products than those who do? Well, at Huma, our purpose is to "enhance the quality of life by empowering others with sustainable humic substances." This certainly helps us identify and support like-minded partners and customers. It also helps steer us toward movements such as soil health and regenerative agriculture.
This Week in Ag #2
Are we looking at a fertilizer shortage? Guess it depends on your definition. The availability of fertilizer isn't a major concern in the US. It really wasn't last year, either. As a good friend (who I consider to be among the best farmers in the country) told me last winter, "you can get it, it's...
Nitrification 101
By Heather Jennings, PE Today we are going to focus on nitrifiers, those wastewater treatment autotrophs that get energy from oxidizing ammonia. (Autotrophs are microorganisms that produce complex organic compounds using inorganic carbon from simple substances as a food source.) Oxidizing ammonia is a fancy way of saying ripping off hydrogens to stick oxygens onto...
Industrial Wastewater Treatment for Corn Processing Plant
Plant Manaer Geraldo O.: "It's the silver bullet we've been looking for all along." Plant Operator Steve W.: "We tried everything to solve the (odor) problem....We've been tickled to death with the product." Plant Operator Ken R.: "It definitely works. Bio Energizer allows us to function more efficiently."