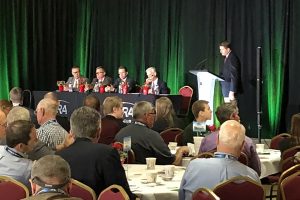 We at BHN/Huma Gro® were very pleased to be a sponsor for the Arizona Agribusiness Roundtable on December 4 at the PERA Club in Tempe. This year's roundtable was titled, "A National Perspective on Agriculture: The Farm Bill and You."
The Agribusiness Roundtable is a collaborative effort by the Arizona Department of Agriculture and the Agribusiness & Water Council of Arizona, Inc. Established to develop a "collective," proactive point of view about Arizona's future, this third annual meeting focused discussion on the importance to Arizona and national agriculture stakeholders of export trade agreements, immigration reform for the farm workforce, and proposed regulations for the 2018 Farm Bill.
Guest speakers and roundtable participants were from a number of national agriculture associations, including the National Milk Producers Federation, National Grain & Feed Association, National Cotton Council, AmericanHort, National Cattlemen's Beef Association, United Egg Producers, Western Growers Association, and the National Pork Producers Council. Also featured were Dr. Barbara Glenn, National Association of State Departments of Agriculture; Dr. Alison Van Eenennaam, UC Davis; Paul Schlegel, American Farm Bureau Federation; Tom Davis, President, Agribusiness & Water Council of Arizona; and Mark Killian, Director, Arizona Department of Agriculture (and member of the BHN Board of Directors).
More information is at https://www.agribusinessarizona.org/agribusiness-roundtable.html.
The Water Break Podcast Hits 4,000 Downloads
This week, our Water Break Podcast reached the milestone of 4,000 downloads. Our fanbase is growing quickly, as it took us 18 episodes and 16 months to reach 3,000 downloads but then only 3 more episodes to reach the 4,000-download mark. The statistics report from Blubrry, our podcast hosting service, has also let us know...
10 Fertilizer Facts for Global Fertilizer Day 2022
Every year, October 13 is marked as Global Fertilizer Day to highlight the significance and acknowledge the contribution of the fertilizer industry in feeding the world's growing populations. This annual international awareness campaign is supported by fertilizer associations and companies across the world with the shared purpose of highlighting the social, economic, and environmental impact...
Fertilgold® Organics Earns Certification for 10 Initial Organic Fertilizer Products
Fertilgold® Organics, a new brand of organic fertilizer products from Bio Huma Netics, Inc. (BHN) headquartered in Gilbert, Ariz., has achieved Organic Materials Review Institute (OMRI) listing for 10 initial products. Of these, 6 OMRI-listed liquid crop nutrition products are based on the company's proprietary nutrient carrier, Micro Carbon Technology®, which carries nutrients to plants...