Conducted by: Southeast Ag Research, Inc.
Huma Gro Products Used: Breakout®, Max Pak®, Vitol®, and Zap®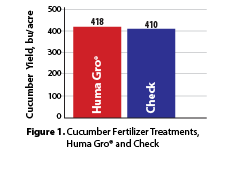 Objective
The purpose of this research project was to evaluate how Huma Gro® liquid fertilizer products with Micro Carbon Technology® affect cucumber yield when compared with a control program of grower's standard fertilizer.
Materials and Methods
This study was conducted at the Southeast Ag Research facilities in Chula, Ga. The experiment was conducted with four replicates. Each replication consisted of a 30-foot-long plot.
The Check plot used only an application of the grower's standard fertilizer program. The Huma Gro® plots also used the grower's standard fertilizer program; in addition, the 4 Huma Gro® liquid products were applied. The Huma Gro® products included Zap® (soil health and fertility enhancer, applied as a soil drench at transplant), Breakout® and Vitol® (plant growth optimizers, foliarly applied 3 times during the season), and Max Pak® (micronutrients, foliarly applied with the plant growth optimizers 3 times during the growing season).
Results
The Huma Gro® fertilizer treatment increased cucumber yield by 8 bushels per acre when compared with the Check treatment (Figure 1). The Check yielded 410 bu/acre, while the Huma Gro® treatment yielded 418 bu/acre.
Conclusions
The Huma Gro® fertilizer treatment increased the yield by 2% (8 bushels per acre) over the Check, with a return on investment (ROI) of 113%. The Huma Gro® program can help cucumber farmers be more profitable while increasing yield.
BHN Acquires Warehouse in Tempe
By Lyndon Smith, President and CEOBio Huma Netics, Inc. I'm excited to share that Bio Huma Netics, Inc. (BHN) has acquired an additional building in Arizona. It's a significant milestone for us that not only testifies to the continual progress we're making as a company but will also serve as a building block for future...
Industrial Wastewater Treatment for Corn Processing Plant
Plant Manaer Geraldo O.: "It's the silver bullet we've been looking for all along." Plant Operator Steve W.: "We tried everything to solve the (odor) problem....We've been tickled to death with the product." Plant Operator Ken R.: "It definitely works. Bio Energizer allows us to function more efficiently."
BHN Welcomes Shawn Whitmer
Bio Huma Netics, Inc. (BHN) announces new hire Shawn Whitmer, PE as the new Director of Engineering and Director of Probiotic Solutions®. Shawn is responsible for managing sales and growth efforts of Probiotic Solutions® wastewater treatment product line. list of websites With Shawn's background Probiotic Solutions® will now be able to offer engineering solutions and...