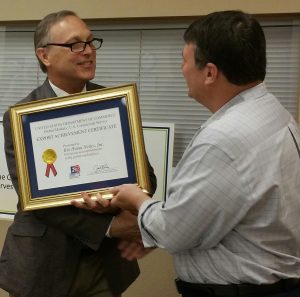 The United States Department of Commerce (USDC) has awarded Bio Huma Netics, Inc. (BHN) an Export Achievement Certificate in recognition of recent accomplishments in the global marketplace. The certificate was presented to BHN CEO Lyndon Smith in Phoenix by Congressman Andy Biggs (Arizona's Fifth Congressional District).
In presentation remarks, it was stated that, "For the past 8 years, Bio Huma Netics has worked closely with the International Trade Administration, especially here in Phoenix, to identify capable global partners and understand foreign countries' regulations. Presently, Bio Huma Netics exports its products to over 30 different countries in Latin America, Asia, Australia, and Europe. Their global success is proof positive that an Arizona-based manufacturing company can successfully overcome market entry obstacles and achieve noteworthy success in almost any international market."
BHN CEO Lyndon Smith stated that Bio Huma Netics is very proud of its international sales success and appreciative of this recognition from the United States Department of Commerce. He attributed BHN's global success to its Huma Gro® line of liquid fertilizers that increase the quality and yield of previously low-producing crops, providing sustainable-agriculture food products while commensurately preserving the environment and the earth's natural resources.
Ducks Walking on Water?
by Heather Jennings, PE Bio Energizer® Reduces Sludge Over 40% at Utah Municipal WTP The case study described below was a project that I worked on with a small-lagoon municipal system so overwhelmed with solids that state action was being taken. The ducks on the other side of the lagoon from me literally looked as...
Justin Smith Named Executive Vice President of Huma Gro® Sales
Justin Smith has been named Executive Vice President of Huma Gro® Sales at Bio Huma Netics, Inc. (BHN). Smith, a graduate of Brigham Young University, has held the progressive responsibilities of Latin America Sales Manager, Director of International Sales, and Vice President of International Sales since he joined the organization in 2008. BHN CEO Lyndon...
BHN Acquires Warehouse in Tempe
By Lyndon Smith, President and CEOBio Huma Netics, Inc. I'm excited to share that Bio Huma Netics, Inc. (BHN) has acquired an additional building in Arizona. It's a significant milestone for us that not only testifies to the continual progress we're making as a company but will also serve as a building block for future...