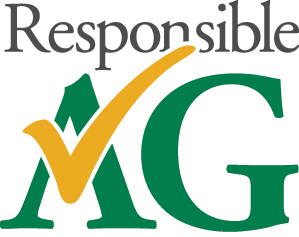 Bio Huma Netics, Inc. (BHN), the maker of Huma Gro® and Fertilgold® Organics crop nutrition and protection products, has achieved Responsible Ag certification for its fertilizer manufacturing facilities.
Responsible Ag is the only program in the nation that provides a voluntary comprehensive assessment of a fertilizer manufacturer's compliance with federal regulations. Certification requires that a facility meet stringent regulatory-based criteria, implement industry-leading safety and security measures, and demonstrate that facility safety is the company's highest priority.
The Responsible Ag certifying organization was founded in 2014 to promote the public welfare by assisting agribusinesses to comply with federal environmental, health, safety, and security rules regarding the safe handling and storage of fertilizer products. Participation in the program assures community members, employees, and emergency responders that participating agribusinesses are acting responsibly.
BHN President and CEO Lyndon Smith said, "Achieving Responsible Ag certification demonstrates to our community and our customers that we are a very safe and responsible fertilizer manufacturer. We take great pride in our production processes, and we take every step available to demonstrate that our products are consistent, of high quality, and are safely and responsibly produced." Frank Pidgeon, BHN Senior Director of EHSS/Quality Control, said, "The Responsible Ag audit was very thorough and was an excellent mechanism for ensuring that we were in full compliance with all federal fertilizer manufacturing safety and handling regulatory requirements. It's great that we can offer this third-party certification to our employees and to our community as objective evidence that safety is BHN's highest priority and that we put our safety commitment into daily action."
More information about Responsible Ag and its certification process, including a list of agribusinesses that have been successfully certified, is available at www.responsibleag.org.
#       #       #
About Bio Huma Netics, Inc.
Founded in 1973, Bio Huma Netics, Inc., (BHN) is a three-generation-family/employee-owned company that is a global leader in providing sustainable solutions to the world's environmental challenges for agriculture (HUMA GRO®, MESA VERDE HUMATES®); horticulture, turf & ornamentals (HUMA GRO® TURF); and soil & wastewater remediation (PROBIOTIC SOLUTIONS®) through its proprietary Micro Carbon Technology® and its continuously improving and ever expanding product lines. Learn more at www.bhn.us.
BHN's Dr. Abi-Ghanem Selected to Speak at Soil Society Leadership Panel
Dr. Rita Abi-Ghanem, Senior Director of Research & Development at Bio Huma Netics, Inc., has been selected to speak as part of a Soil Science Society of America (SSSA) panel discussion on Leadership at the 2019 International Soils Meeting, "Soils Across Latitudes, on January 8, 2019, in San Diego, California. Dr. Abi-Ghanem will be representing...
Nitrification and Denitrification in Wastewater Activated Sludge
By Heather Jennings, PE The great teeter–totter of wastewater is the nitrification and denitrification cycle in activated sludge wastewater systems. It takes both to convert ammonia to nitrogen gas! Both processes feed off of and support each other but, in some ways, they have competing needs. Nitrification consists of ripping off the hydrogen in ammonia and adding oxygen...
BHN's Lyndon Smith to Speak at New AG International Africa Conference
Bio Huma Netics, Inc., President and CEO Lyndon Smith has been selected to speak at the New AG International—Africa Conference, to be held April 6–8 in Marrakesh, Morocco. The full conference title is "A 360-Vision of Specialty Fertilizer, Precision Ag, Irrigation, and Biostimulant Developments in Africa." Mr. Smith's presentation, titled "The biostimulant effect of humic...