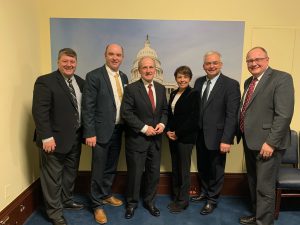 BHN President/CEO Lyndon Smith (far left) meets with Idaho Senator James E. Risch (third from left) and others at the Agricultural Retailers Association (ARA) Winter Board Meeting in Washington, D.C. BHN's leonardite mine is located in Idaho.
BHN Earns 2019 Biostimulant Industry Impact Award
Bio Huma Netics, Inc. (BHN), located in Gilbert, Arizona, is the recipient of the 2019 Biostimulant Industry Impact Award. The award was presented at Biostimulant CommerceCon in Atlantic City, New Jersey, by AgriBusiness Global and its parent company, Meister Media Worldwide. This prestigious annual award is given to the company that a panel has judged...
PS and RWAAz Host PFAS Workshop
Probiotic Solutions®, along with the Rural Water Association of Arizona, conducted a workshop today on Per- and Polyfluoroalkyl Substances (PFAS) at Probiotic Solutions/Bio Huma Netics headquarters in Gilbert, Arizona. The workshop, titled "PFAS: The Phantom Menace," featured presentations by Heather Jennings, PE, Director of Probiotic Solutions, and Marci Payne, Sales and Marketing Manager at Legend...
ATS Partners with Probiotic Solutions® for Microbiological Wastewater Treatment
ATS Innova and Probiotic Solutions® team up to provide the best in water treatment. Together, they will offer microbiological solutions to facilities worldwide. ATS Innova  announces a partnership with Gilbert, AZ-based Probiotic Solutions® – a concentrated liquid wastewater remediation company that features Micro Carbon Technology®. The two companies announced a formal partnership at the end...