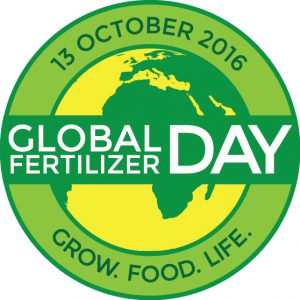 Global Fertilizer Day will launch for the first time with an event in London on October 13, 2016, giving international agriculture professionals the opportunity to creatively discuss global food security and the sustainability of our future. The purpose of this day is to spread knowledge and awareness about one of farming's most important ingredients, and to highlight the need for continued agricultural research. Innovation in agriculture, with the end-goal of worldwide food sustainability, is at the core of this awareness campaign.
Fertilizers have helped revolutionize the agricultural sector. Delivering nitrogen, phosphorus, and potassium—along with other essential micro-and macronutrients, fertilizers are vital for improving farmers' yields. The widespread use of fertilizers has made more food accessible and available in every corner of the globe than ever before. Yet global food security remains a top international concern and, with the global population estimated to increase up to 9.7 billion by 2050 (UN.org, 2015), encouragement of innovation in agriculture and education about farming techniques are crucial for the future of our nutrition.
Some essential facts to know are:
Fertilizers are responsible for keeping 4 billion people alive today, accounting for 50% of global food production.
The world's population will grow by 25% by the year 2050. We also lose 10 acres of farmland per minute, meaning that less and less farmland will be available as we need to feed more people.
In 1960, 1 hectare of land fed 2 people; in 2025 1 hectare of land will need to feed 5 people.
"Fertilizers are very interesting. A few billion people would have to die if we hadn't have come up with fertilizer"—Bill Gates on CBS tonight, 2013
As a global leader in providing sustainable solutions to the world's agriculture challenges, Bio Huma Netics, Inc.—with its Huma Gro® line of precision crop nutrition and protection products—is proud to support Global Fertilizer Day.
Download the "Fertilizer Fact Sheet."
Download "Fertilizer Basics."
More information is available at www.fertilizerday.com.
Unique Water Towers That You Should See
By Jael Batty From globes to lighthouses, historical and refurbished water towers around the world are eye-catching landmarks.
Spring Is Coming and It's Lagoon Time!
By Heather Jennings, PE As winter loses its grip on us and we move toward spring, it's finally time to start monitoring lagoons for seasonal turnover and stricter permit requirements. It's also a great time to start bioremediation of your lagoon organic sludge! With warmer weather it is easy to capitalize on those microorganisms that...
This Week in Ag #29
By Fred NicholsChief Marketing Officer,Huma®, Inc. We all do it. We track time by referencing memorable items that we or our family once possessed. "Back when he drove that blue Silverado", or "when she had that yellow Labrador" are examples of how we recall events that shaped our lives. For farmers, those points in time are...