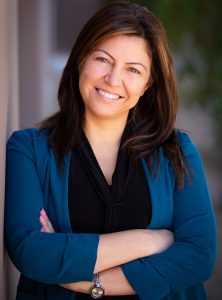 Rita Abi-Ghanem, PhD, Senior Director of Research and Development at Bio Huma Netics, Inc. (BHN), has recently been selected for two 40-Under-40 awards. The first, from The Phoenix Business Journal, recognizes Arizona leaders under the age of 40 who are making major strides in their careers and are having a positive impact on their communities. Forty individuals were selected for this award from a field of 420 industry-leading nominees. The second, the Fruit + Vegetable 40 Under 40, is given by the editors of Fruit Growers News and Vegetable Growers News to outstanding young industry professionals who are demonstrating exceptional commitment to making their mark in the industry through innovation and leadership.
The Phoenix Business Journal award will be given at an August 2nd event at the Fairmont Scottsdale Princess Resort in Scottsdale, Ariz. The Fruit + Vegetable award will be given at the 2018 Great Lakes Fruit, Vegetable & Farm Market Expo in Grand Rapids, Mich., on December 4.
Dr. Abi-Ghanem—a native of Lebanon and a Fulbright Scholar who earned her doctorate in Soil Science from Washington State University—states that she is deeply honored to have been selected for these two awards, and she was quite surprised when notices about her selection for these two unrelated awards with similar names arrived just a day apart. BHN CEO Lyndon Smith stated that he and everyone else at BHN are very proud of Dr. Abi-Ghanem's accomplishments, and he is pleased that others in the local and national communities are recognizing her contributions to agriculture.
Dr. Abi-Ghanem is an adjunct faculty member of the Department of Crop and Soil Sciences at Washington State University (WSU) and serves as a member of the Humic Products Trade Association Science Committee; the Fluid Fertilizer Foundation Research and Education Committee; and the Arizona Department of Agriculture Pesticide Advisory Committee. She is former Chair of the Women-in-Science Committee of the American Society of Agronomy (ASA), Crop Science Society of America (CSSA), and Soil Science Society of America (SSSA), and is current co-chair of the SSSA Representation and Recognition Task Force. She is currently also serving a 2-year term as a member of the Agricultural Science Committee of the U.S. Environmental Protection Agency's (EPA's) Science Advisory Board (SAB) and is an executive board director of the Association for International Agriculture and Rural Development (AIARD).
Dr. Abi-Ghanem was further honored last year when she was presented with the AIARD 2016 Young Professional Award. That award cited Dr. Abi-Ghanem's early work in assessing seed-borne diseases on wheat and barley landraces in a rural area that borders Syria and participation in the Bill & Melinda Gates Foundation Agricultural Research Connections 2013 Workshop in Kenya. She also participated in the Iraq Agricultural Extension Revitalization Project, in which she and others from Washington State University and four other American universities trained Iraqi agricultural extension agents and scientists through sessions held in 2007–2008 in Egypt, Syria, and Jordan.
The Water Break Podcast, Episode 29: Preventing Backflow, Part 2
"Where we bridge the gap between water plant operators and engineers" In episode 29 of the Water Break Podcast, Heather Jennings, PE, discusses fundamental water systems backflow and cross-connection issues with Gary McLaren, Marketing Director and "Backflow Nerd" at HydroCorp, based in Troy, Michigan, and Rich Davison, Engineering Sales at Soderholm & Associates in Madison,...
Strengthening the Biostimulant Movement with HPTA
By Lyndon SmithPresident and CEO,Bio Huma Netics, Inc. We attended the Humic Products Trade Association (HPTA) annual meeting this past month in Park City, Utah. It's always a pleasure to get together with industry peers and talk about issues pertaining to HPTA as well as discussing the latest and the greatest research and product developments...
This Week in Ag #24
Yellow airplanes were buzzing over Iowa cornfields like bumblebees over zinnias during my drive to Iowa last week. There was a time when Midwest farmers would grind their teeth at the sight of these crop dusters. It usually meant a neighbor was treating a pest problem with a costly, unplanned aerial application. And that pest problem...