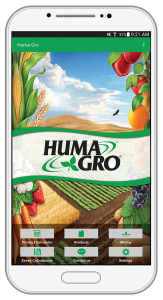 The Huma Gro® app for Android smart phones was released during the Bio Huma Netics, Inc. (BHN), 2016 World Conference held October 25–28. The free Huma Gro® app, available on Google Play, provides a foliar application calculator for determining how much product to apply to specific crops on any size of field based on lab analysis, a continuously updated product document library, a product mixing guide, and the ability to save product application data and calculations by field.
Justin Smith, Executive Vice President of Huma Gro® Sales, said, "The Huma Gro® app will allow growers and distributors to always have the most up-to-date information on every Huma Gro® product, and it will be very useful in the field to be able to calculate how much product is needed to get the best yields. In addition, the app provides a way for growers and distributors to directly contact the Huma Gro® Sales Team with any questions they may have regarding Huma Gro® products and their use."
The Huma Gro® liquid crop nutrition and protection line includes 11 Primary Macronutrient products, 16 Secondary Macronutrient and Micronutrient products, 5 Sustainable Soil Fertility products, 8 Optimal Growth Management products, 5 Carbon-Rich Organic Acid products, and 2 Zero-Residue Crop Protection products—all with the ultra-efficient, proprietary Micro Carbon Technology® delivery system that allows growers and crop managers to achieve far more with much less product. Additional information on Huma Gro® products is available at www.humagro.com.
The iOS version of the Huma Gro® app will be available in 2017.
BHN's R&D Director Honored With Two 40-Under-40 Awards
Rita Abi-Ghanem, PhD, Senior Director of Research and Development at Bio Huma Netics, Inc. (BHN), has recently been selected for two 40-Under-40 awards. The first, from The Phoenix Business Journal, recognizes Arizona leaders under the age of 40 who are making major strides in their careers and are having a positive impact on their communities....
BHN Senior Director of Research & Development to Chair ACSESS Women-In-Science Committee
Rita Abi-Ghanem, PhD, Senior Director of Research and Development at Bio Huma Netics, Inc. (BHN), has been selected as Chair-Elect for 2016 and Chair for 2017 of the Women-in-Science Committee of the Alliance of Crop, Soil, and Environmental Science Societies (ACSESS). ACSESS member organizations include American Society of Agronomy (ASA), Crop Science Society of America...
BHN's Heather Jennings Receives TAPPI Division Leadership & Service Award
Heather Jennings, Senior Project Engineer for Probiotic Solutions® at Bio Huma Netics, Inc. (BHN), was presented the Division Leadership & Service Award by the TAPPI Women in Industry Division at the PaperCon meeting in Ohio on April 16. The Award was presented in recognition of Ms. Jennings' outstanding leadership and exceptional service.