Just as the seasons inevitably turn, so does the farming landscape within a tight-knit rural community. That reality hit close to home for me last Thursday with the passing of my uncle, Gary Nichols. He and my father farmed together for decades, and like most farming families, Uncle Gary was a solid fixture in my life, not to mention a pillar of the farming community. For the past several years, he was the elder statesman of Rural Route 3, the wily veteran who had seen it all and done it all. That included becoming, along with my father, the first back-to-back corn yield champions of Knox County, Illinois.
 When dad passed away suddenly in 2003, I became the sole operator of our farm. Fortunately for me, Uncle Gary was always there for me whenever I needed help. He pretty much helped anybody who ever asked. That's what real farmers did, at least back in the day. Even though he technically retired a few years ago, leaving his operation in the hands of my cousin, Uncle Gary's passing marks a sad reality: most of the neighborhood farmers I grew up with, and later farmed with myself, are gone. Many have passed, others retired or moved on to another line of work. Fewer still are the children willing to pursue a business too often shaped with high risks and low economic rewards, especially when there are more comfortable and stable ways to earn a living. The average age of the American farmer is 57 years old. Over 40% of US farmland is projected to change hands within a generation. Yet young farmers (under 35 years old) currently account for just 9% of all US agricultural producers. But these are mere stats, until you see it happen in your neighborhood. For those who follow this blog, you know I'm growing what looks to be an impressive corn crop this year. I'm not sure exactly how it will fare or place in the yield competition. But one thing's for sure, I know who I will be dedicating it to.
Cover crops are a valuable tool in the soil health and regen ag movements. Nearly half (45%, according to a Purdue study) of all farmers are using them. Yet if the adoption of this practice is so high, how come it's not apparent when you drive across flyover country? That's likely because most farmers are either still experimenting with them or use them on what they perceive to be an as-needed basis. Users admitted using them on less than 25% of their acreage and cited "improving soil health and erosion control" as motivators for planting covers. One could conclude this means the vast amount of covers are going on hilly ground or marginal soils. This was a challenging year for cover crops in many parts of the Midwest, especially those that experienced unusually dry conditions. Where rye was grown ahead of corn, the rye is criticized by many as robbing moisture and hurting the corn. Farmers are renowned for being great at tinkering. Cover cropping is definitely a practice that requires it.
My friend Mitchell Hora was honored by the Ag Update media group (holder of several Midwest-based print/digital magazines) in this article as one of their "Four Under Forty" young farmers leading the industry. Mitchell is no stranger to such accolades. He also made Forbes prestigious "30 Under 30" list last year. I first met Mitchell when I served as an advisor to the Ag Launch start up accelerator. Not that he needed much advice, he was a natural. His Continuum Ag company has blossomed from a soil health consulting company into a game-changing, global regenerative ag software company. Last month Huma was proud to sponsor his TopSoil Summit event in Washington County, Iowa. In October, I will be appearing as a guest on his TopSoil webinar series. Our vision at Huma is to build alliances with and support like-minded organizations – such as Mitchell and his team at Continuum Ag – who are as passionate about soil health and regen ag as we are.
My corn is rapidly approaching maturity, especially due to very hot nights. Yesterday we recorded 32.5 GDUs. At this point, kernel content is over half dry matter. We should reach physiological maturity within two weeks. Yet note the color of the plants. Except for the lowest leaves, the plants are still very green. This is not an accident; it's a sign of excellent plant health. The goal is to keep the plants healthy and alive past physiological maturity. High-yield growers want to harvest plants with brown husks and green leaves.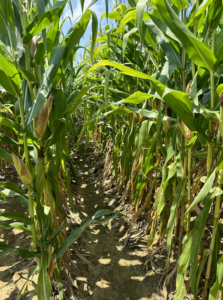 This ear is 18/39: 18 rows across and 39 kernels long. I did not go monster hunting for it. It is indicative of ear size throughout much of the field. Ear health is excellent. The kernels have a bright yellow glow.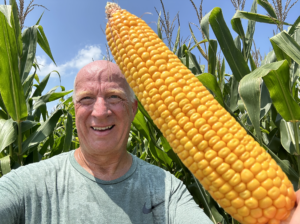 Kernels are deep, large and impressive. The ears are very heavy, and kernels are still filling out, which is why it's essential to keep the plant healthy.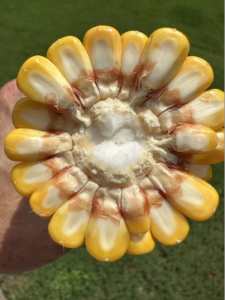 Using this bad kitten, that should not be on the counter, to provide scale to AgriGold 647-79 powered by Huma. This 18/39 is representative of what I'm seeing.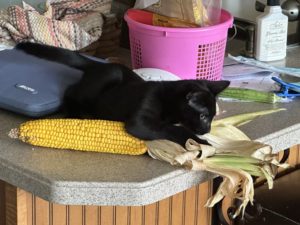 This Week in Ag #4
Wednesday was Tax Day. For farmers, it was. Unlike the rest of us, farmers (and fishermen) file taxes on March 1. Due to the complexities of farming, including depreciation schedules for machinery, most farmers hire a professional tax preparer to help file their Schedule F. These are often independent accountants. And most are long-standing, often...
El valor de las sustancias húmicas en el ciclo de vida del carbón de los cultivos:
Ácidos húmicos, ácidos fúlvicos, y más. El siguiente artículo se publicó originariamente en la edición de enero de 2017 de la revista AgroPages. Las sustancias húmicas desempeñan un papel importante en la fertilidad del suelo y en el rendimiento de los cultivos. Este artículo proporciona una visión general básica de lo que son las sustancias...
BHN Announces Leadership Expansion to Pave Way for Growth
Bio Huma Netics, Inc. (BHN), a leading miner and manufacturer of raw humates (humic and fulvic acids) as well as creator of soil amendments and crop nutrients based on humic technologies, has announced structural changes and expansion of its core leadership team to better align with the company's continued growth and strategic goals. The BHN...